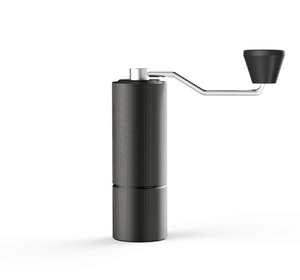 This is by far the best entry level hand grinder we've tested.
It can grind from espresso to batch brew with decent steel burrs that are unexpectedly quick to grind. It can also do espresso decently without taking too long (around 15-25 seconds depending on grind setting at 90rpm).
We sell the new updated version with the metal grind adjustment dial instead of the old plastic one which was the only real weak point of the older model.
We recommend putting padding in the case if travelling with it as it isn't proven to be able to take a heavy beating.
NB: The steps are a bit too large for fine tuning espresso so you may have to adjust your dose half a gram up or down to adjust the espresso flow rate if the sweet spot is in between 2 grind settings.